Sage 100 Contractor Data Integrator
Check out our 'NEW' Sage 100 Contractor Data Integration Suite...

Ei Dynamics® can connect Sage 100 Contractor to virtually any 3rd party system or database. Whether you are a Sage customer or a 3rd party vendor looking to integrate external data with Sage 100 Contractor, Ei Dynamics provides a robust non-progmatic approach to integrating external databases or systems with Sage 100 Contractor.
With Ei Dynamics®...
Eliminate double data entry, reduce human errors and increase efficiencies across your organization by integrating your various systems.


If you're holding off purchasing a 3rd party system because they don't have an existing integration for Sage 100 Contractor, Ei Dynamics can help.


If you're contemplating hiring a new employee to handle an increased amount of data entry because your business is growing, Ei Dynamics can help automate and even eliminate the data entry altogether.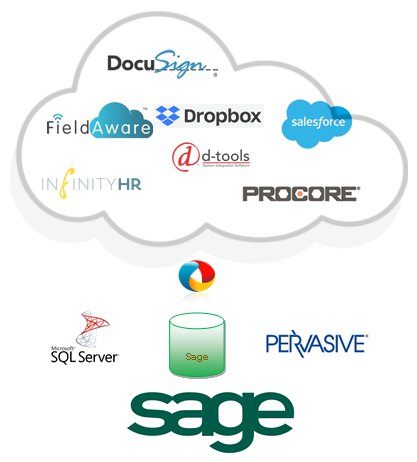 Construction Industry Expertise
Ei Dynamics® technology combined with over 25 years of deep construction accounting expertise and experience makes Ei Dynamics a unique fit for any construction company that owns Sage 100 Contractor and wants to integrate it with another system. Our deep knowledge of both Sage 100 Contractor and the construction industry provides us with a long and unique history of taking on complex and complicated data integration projects and completing them successfully.
Bi-Directional Data Integration
Ei Dynamics's robust toolset can push and pull data in either direction and supports many different data formats and protocols. Ei Dynamics proprietary data connector engine can query a SQL database just as easy as it can push or pull data from a web service with zero programming.

Ei Dynamics' natively supports the following protocols and data types:
ODBC
OLEDB
HTTP
REST APIs
CSV
JSON
XML
XLS
XLSX
Data Integration Examples:
Project Management
Import/Export Owner Contracts and Owner Contract Change Orders to or from a 3rd Party Project Management System like Procore
Import/Export SubContracts and SubContract Change Orders to or from a 3rd Party Project Management System like Procore
Import/Export Actual Costs to or from a 3rd Party Project Management System like Procore
Job Cost
Import/Export Job information to or from a third party system
Import/Export Cost Codes information to or from a third party system
Import/Export Estimates to or from a third party system
Accounts Payable
Import/Export Vendor information to or from an AP processing service
Export check payment information to the bank for Positive Pay
Import/Export AP invoices to or from a 3rd party system
Payroll
Import/Export Employee information to or from a 3rd party payroll service
Import/Export Employee pay, fringe and deducts to or from a 3rd party HR system
Export pay stub information to a 3rd party payroll or HR system
---