Procore SQL Replicator

Real Time Data Replication between Procore and SQL Server.
Overview
Key Features
Hosted Option
On-Premise Option
User Interface
Installation Requirements
Overview:
Ei Dynamics' Procore SQL Replicator is a powerful data replication solution that allows you to send Procore data to a SQL Server database in real-time. By having your Procore data in a SQL database you can easily create reports or build custom integrations between other systems. With the real-time replication feature it's like having an on premise construction management system in the cloud. As data is entered or changes are made to existing records through the native Procore interface, the changes are replicated to a SQL Server database within 60 seconds or less.
Companies should have total control of their data to do with and what they want. Having the ability to use standard industry reporting and business analytic tools such as SQL Reporting Services, Tableau, Microsoft Power BI and Microsoft Office to name a few is critically important to managing a business in today's fast pace world.
If you're looking to connect Procore to SQL Server there is no easier or robust solution available. With our hosted option there are no setup or implementation requirements and you can be up and running in a matter of minutes.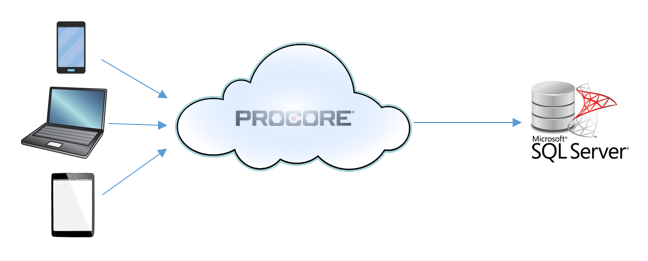 Key Features:
Virtually every resource in Procore is available for replication
Supports replicating multiple companies into a single database
Supports replication of historical data from inactive projects
On premise and Hosted solutions are available
Multiple Replication options: 'On demand', 'Scheduled' and 'Real-time'
Simple user interface allows resources to be added and removed with a click of the mouse
Hosted Option:

Pro's:
No setup or installation required
Bug fixes and enhancements are seamless
Hosted in a state of the art hosting center for optimal up time, reliability and fast internet speeds
Can be natively embedded within Procore as an 'Embedded App' for quicker, easier and more seamless access
Month-to-Month payment option available
Con's:
SQL Database is read only so no custom indexes or optimizations are allowed
Depending on download internet speeds, data query performance may vary
On-Premise Option: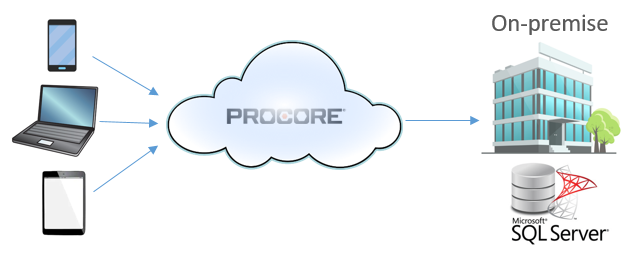 Pro's:
Full control over the SQL database, its security, indexing and performance optimization
Generally better performance
Tighter control over access to the database and applications that access it
Full control over when updates and patches are applied
Con's:
On premise installation, setup and configuration required
Implementation consulting services may be required
Updates or product enhancements have to be regularly applied as they are available
Procore embedded app option is not available
User Interface:
Our simple to use point and click interface allows you to add and remove resources on demand without any programming or advanced computer knowledge. Individual resources can even be refreshed on demand by simply pointing and clicking the replicate button.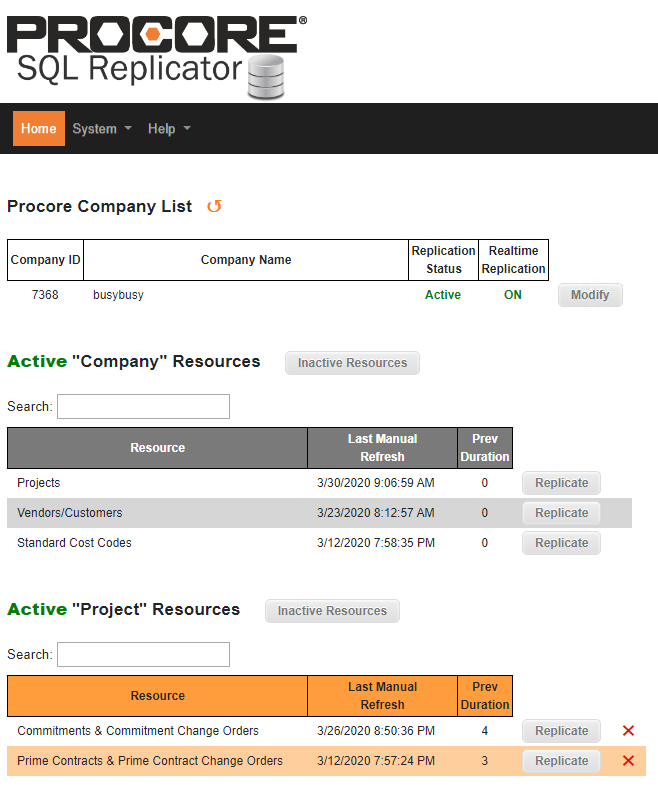 On-Premise Installation Requirements:
If the Procore SQL Replicator is being installed as an on-premise solution the following is a list of the minimum system requirements.
Windows Server 2012 R2 or higher
Minimum of 16GB of RAM on the server
Minimum of 2 processors
SQL Server 2017 Express or higher (2)
IIS7 or greater
.NET 4.5.2
Brochure Download:

---